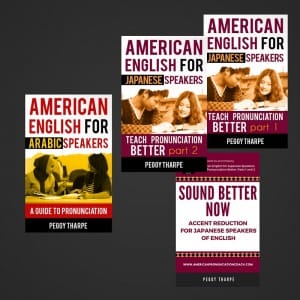 These guides are written for ESL and EFL teachers, tutors, and accent reduction coaches.
American English for Arabic Speakers: A Guide to Pronunciation covers the most significant interference points between Arabic and English…the features that the 2 languages don't share in common, and which therefore cause problems for learners. You can find it on Amazon.com right here!
The American English for Japanese Speakers series addresses the many interference points between Japanese and English…it's written in three parts. Part 1 covers vowels, consonants, blends, clusters, and the ever problematic R and L. If you invest time in these small building blocks of the English sound, your students will reap more rewards later when they practice rhythm, stress, melody and intonation. Part 2 covers all of that, starting with syllable stress and ending with the signals used as a code to help listeners understand how thought groups are related to each other. The third book in the series, Sound Better Now: Accent Reduction for Japanese Speakers of English, are the worksheets that I use with nearly all my advanced level Japanese clients to help strengthen their sound in English. 
To see these and my other publications, just go to my Author Page on Amazon.
And…if you'd like to know when more guides become available and webinars begin, or would like to receive my occasional communiques, sign up over on the right side of this page, and get '5 Ways to Sound Better in English Now' as a thank you gift.
Teach English pronunciation differently depending on the first language. Click To Tweet